1ST MEETING OF NUMS-ORIC STEERING COMMITTEE - 21ST JUNE 2022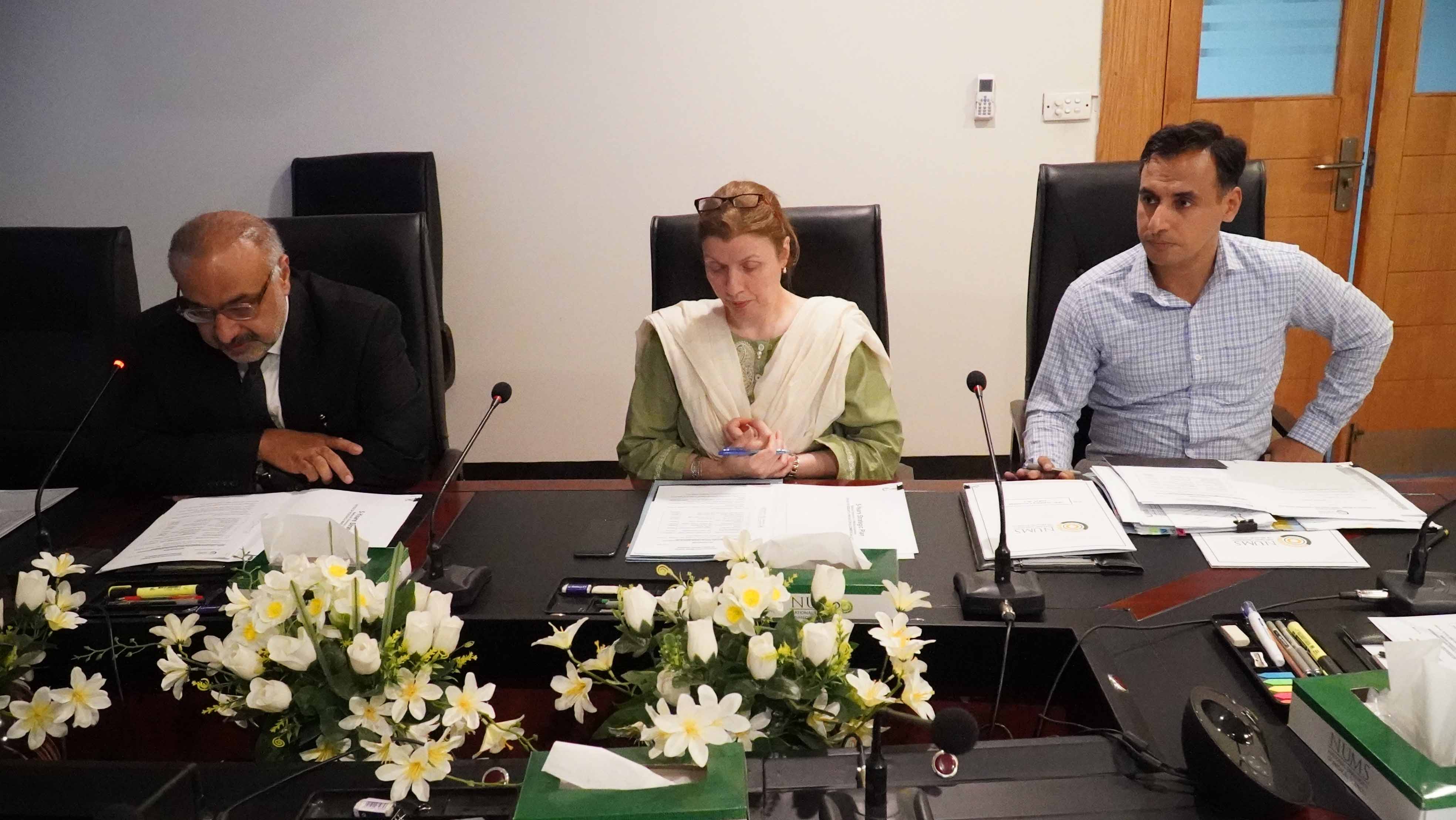 NUMS-ORIC facilitates faculty and researchers in research management/ operations, capacity building, research commercialization and is acting as a focal point for providing guidance and support to Constituent/ Affiliate Institutes in conducting high impact research.
As per HEC policy for ORICs, NUMS ORIC Steering Committee (NUMS ORIC-SC) has been formally constituted vide notification No. 19/Registrar/NUMS on 1st Apr 2022 with participation from private sector (Pharma industry) and senior university officials for the purpose of strengthening research and innovation culture in the university.
NUMS ORIC-SC comprises of 08 members, along with the Chairman and Co-Chairman (from industry). The affiliation of the members is as under: -
S#

Name

Designation/ Affiliation

Role

a.

Lt Gen Wasim Alamgir, HI(M)

Vice Chancellor, NUMS

Chair

b.

Mr Osman Khalid Waheed

President & CEO Ferozsons Labs

Co-Chair

c.

Maj Gen Saleem Ahmed Khan, HI(M) (Retd)

Pro VC (Acad), NUMS

Member

d.

Mr Usman Shaukat

Director Bio-Labs Pvt Ltd

Member

e.

Mr Nadeem Hussain Alamgir

Consultant Pharma Bureau

Member

f.

Mr Muhammad Ammar

Pharmaceuticals Manufacturing Consultant

Member

g.

Mr Fazli Hanan

CEO Focus & Rulz

Member

h.

Prof Dr Aisha Mohyuddin

Dean MDS/Director of Research,NUMS

Member

i.

Dr Awais e Siraj

Director ORIC, NUMS

Member

j.

Mr Aqeel Yunus

Assistant Director ORIC, NUMS

Member/

Secretary
The 1st meeting was held in NUMS conference hall, PWD Campus at 1200 hrs on 21st Jun 2022 where the Honorable Chairman welcomed the members of ORIC-SC. Co-Chairman sent a video message because of his travel engagements abroad. The committee was briefed on the following agenda points of the meeting by Director ORIC:
a. TOR's/Rules of the Committee
b. 05 x Years ORIC Strategic Plan
The Honorable Chairman and members of the committee endorsed the 5-year ORIC Strategic Plan. The need to explore further avenues of research especially in the field of Nutraceuticals and Drug formulations was highlighted by the chairman. The members of industrial entities ensured their support and guidance to uplift research and its commercialization potential at NUMS. The meeting was concluded with a vote of thanks by the Chair.