18TH SAMAAJ KHAYAAL: UNPACKING THE LEGISLATION ON TRANSGENDER RIGHTS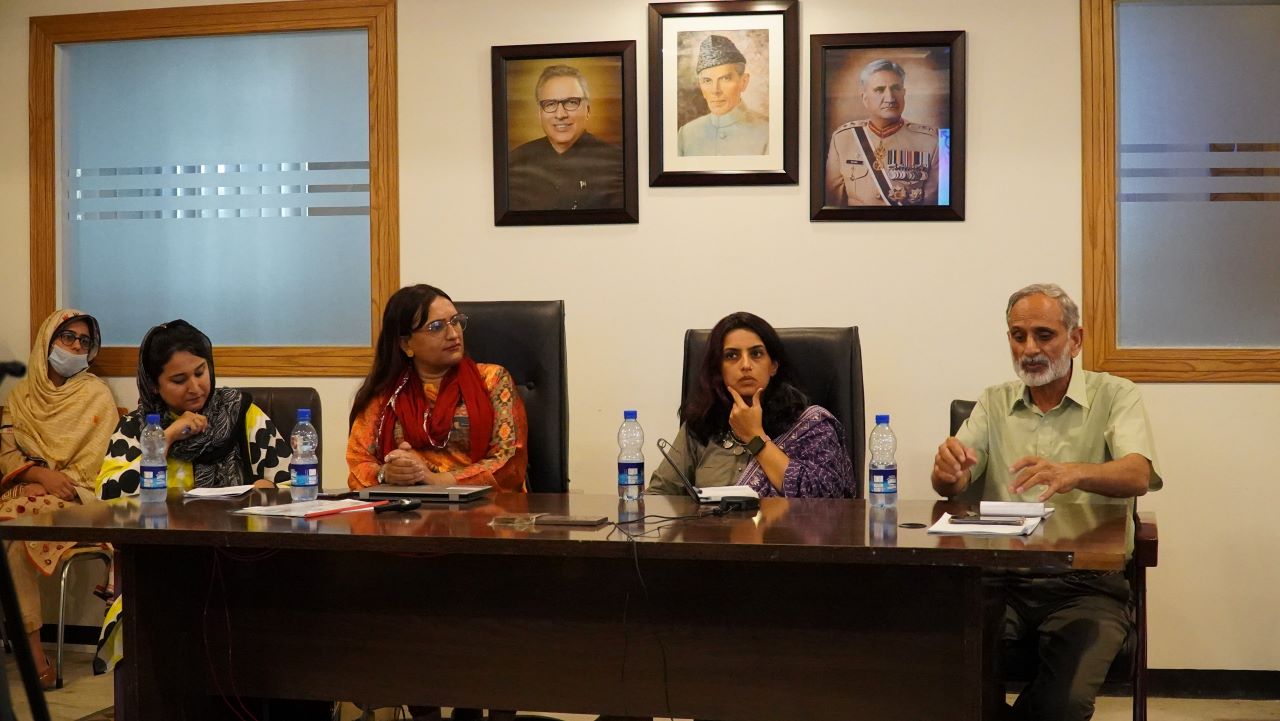 The NUMS Faculty of Social Sciences and Humanities held its 18th session of "Samaaj Khayaal"- a forum, which aims to transcend disciplinary boundaries, find connections and bring to light issues of social relevance. The recent debates surrounding transgender rights in the context of contemporary social, political and legal structures as an interface between state and society in Pakistan paved way for this session titled "Discussing Transgender Persons (Protection of Rights) Act, 2018", which was held on October 6th, 2022 in the Seminar Room at NUMS PWD Campus. Ms. Reem Sharif, a transgender rights activist, trainer and currently working in the Ministry of Human Rights and Ms. Amna Hafeez, Lecturer at the Center of Excellence in Gender Studies at Quaid-i-Azam University, had kindly consented to be the main speakers. Dr. Abdul Qadar (Assistant Professor- Anthropology) and Ms. Taskeen Mansoor (Lecturer-Anthropology) from NUMS Department of Social and Behavioral Sciences organized the session and moderated the discussion.
The session opened with Ms. Reem outlining the definition of Transgender Persons and highlighting the rights to inheritance, residence, education, public spaces and health as guaranteed in "Transgender Persons (Protection of Rights) Act, 2018". She took the audience back to 1871 to talk about the Criminal Tribes Act and resultant colonial administration and seclusion of transgender persons in the subcontinent. She also dispelled the predominant myth regarding same sex marriages by pointing out that this particular legislation only allows for transgender person to shift from Male or Female to Transgender X category. To cater to the interests of students and faculty from health sciences, Ms. Reem discussed how, in accordance with the legislation passed, medical curriculum could be reviewed and a health care needs assessment and provision of facilities could ensure transgender inclusion in the society.
As an accomplished academic, Ms. Amna furthered the discussion by putting emphasis on the need to have indigenous conceptualization and associated linguistic terminologies to talk about transgender issues. Talking about the Khawaja Sara community, she deliberated upon the role of cultural contextualization of gender issues when understanding the law and its implementation in Pakistani society. The discussant for this session was the Dean Faculty of Social Sciences and Humanities, Prof. Dr. Azam Chaudhary, who shared his anthropological research work on transgender community and questioned whether the biology or gendered socialization contributed to shaping up of a "self-perceived gender identity". He also talked about the trustworthiness of statistics related to the diverse categories of trans persons like eunuchs, intersex, transgender men and transgender women.
The session enabled an open, critical and inclusive debate among a transgender activist, an academician and a university audience of students and faculty. Questions around hormonal treatments, transitioning, the religious perspective, need for inclusive spaces and role of students and faculty were adequately addressed by the guest speakers. Dean Social Sciences and Humanities, Dr. Azam Chaudhary thanked the guest speakers and handed over the university souvenir as a token of appreciation. The session ended with an informal networking over refreshments.